Home Expressions Photography
Real estate photos, measurements and video for Calgary, Airdrie, Olds and area!

When you book, you get me (Randy) every time.  Consistent high quality content, personable, reliable and punctual.  You can count on me to show up (with or without your presence), get the job done while maintaining a high standard.  I will take care of your clients while delivering premium content to you in a timely manner.
This is not a photo mill.  It's not about packing in as many photoshoots in a day and delivering sub par quality.  That being said, I try to keep my prices competitive.

High Quality Photography
Specialized techniques (for better image accuracy) to ensure you receive great photos everytime. My clients love the flash ambient technique that I use for the majority of photos. In some situarions, I will use the HDR technique. It's all about using the right tool for the job!
iGuide - Virtual Tour, RMS Measurements, Floorplans
Sold sight unseen? The iGuide will help with that! Providing laser accurate measurements under the RECA RMS. Virtual Tour, Property Website, Analytics and Report.
Videography
Real estate videos and reels with licenced music to truly showcase the feel of the home.

Filmed in 4K resolution using a gimbal for stabilization and edited using industry leading software.

Video attracts the eyes of potential buyers much more than photos alone.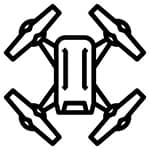 Aerial
Using drones for photos and videos of your listing!
Transport Canada Advanced Certified and Insured.

I use a high end drone with a 1" photo sensor that is able to fly in fairly strong wind conditions.
My real commercial pilot experience translates well with helping you get the aerial photos and video you need!
Next day turn-around by the end of the day for photos and iGuide tours.
Videos are delivered within 72 hours (but generally much quicker than that).
Usually, you'll get everything early in the morning!
I do it all – no need to call multiple businesses out.
Serving Calgary, Cochrane, Airdrie, Crossfield, Carstairs, Olds, Sundre, Red Deer
Serving our clients since 2020
Happy to answer any questions you may have!